Regular price
Sale price
$205.00
Unit price
per
Sale
Sold out
SKU: GAR134
Weight: 36.0 lb
Product Description

Window Box is available in 3 sizes. Back side is flat.

30":

Copper is 30 inches long by 8 inches tall by 8 inches wide

36":

Copper is 36 inches long by 8 inches tall by 8 inches wide

48":

Copper is 48 inches long by 8 inches tall by 8 inches wide

HEAVY & DURABLE CONSTRUCTION

– Each rectangular window box is hand-crafted from 100% real raw copper and finished with a clear-coat lacquer. Thick iron is welded into a sturdy frame and finished with a classic black, powder-coated, protective finish. Drainage holes provide excellent drainage for your copper window box.

100% REAL RAW COPPER

- Raw materials are a favorites among architects, custom homebuilders, restaurants and hotels. The contrast of the raw copper with the black powder-coated metal make this window box luxury outdoor décor. Copper also naturally enriches the soil with nutrients.

TRADITIONAL STYLE PLANTER FOR ALL SEASONS

– This large size window planter will make a dramatic statement wherever it's placed. Unique and sturdy, it's perfect for any outdoor setting. If you're looking for something different, this is a window box your neighbors will envy. Thinking minimalistic, fill your H Potter window box with succulent plants or flowers in pots or urns to create simplistic curb appeal.

SECURELY PACKAGED AND BUILT TO LAST

– A decorative way to display your favorite blooms outdoors, this window box planter will add a natural warmth to your outdoor décor. It has a wide mouth top, which lets the plants breathe and grow properly. Sturdy yet lightweight – brackets make removal easy for planting and care for everyone from gardeners to landscapers to designers.

QUALITY BY H POTTER

– H Potter has been designing and manufacturing premium quality garden products since 1997. We do not pretend to be the cheapest, but you get what you pay for. Packaged well, with stunning craftsmanship and backed by great customer service, we're proud to say our garden products are built to last.


FAQ

Does H Potter do custom work? 

Custom work is not available. Items are only available in the sizes, finishes and colors shown on our website.

Where are H Potter products made? 

H Potter items are manufactured at our partnered factory in India. Glass terrariums are handcrafted in India and China.

Does H Potter offer discounts? 

H Potter does not offer discounts, but we do offer fast, free shipping and exceptional customer service.

Can H Potter provide detailed information about warehouse deals? 

We do not have specific pictures or information regarding each individual warehouse deal item. Warehouse deals are typically customer returns or photo shoot items. We inspect items upon their return to make sure glass is not broken, items have not been used or major components are not missing, this said, items could have dents or dings, hardware may be missing, outer boxes may show wear and tear. It is not feasible to provide specific photos detailing the issues as each individual item would need its own sku identification.

Does H Potter ship outside of the United States? 

Currently, H Potter is offering shipping to Canada, please note duties and shipping charges at checkout which are paid by the customer.

Does H Potter offer replacement parts? 

H Potter does not keep an inventory of replacement parts. If an item arrives and a small part is damaged, please contact us for solutions.

Does H Potter offer replacement glass? 

H Potter does offer replacement glass for lanterns and torches. Please contact H Potter via text at 208-640-4206 if replacement glass items are showing out of stock. When ordering replacement glass for lanterns please note the lantern SKU for which you are requesting the replacement glass

Please use this link to purchase lantern glass.

Please use this link to purchase torch glass.

What is H Potter's return policy? 

Materials & Care 

H Potter window box planters include a 100% raw copper planting insert and a metal mounting frame and/or mounting brackets. This style of H Potter window box planter is made with 100% real copper. After construction, an application of a high grade clear-coat protective sealer is applied to the planter. If you prefer the bright copper look , you might choose to apply a coat or two of clear polyurethane annually to the inside and outside of the planter. This can be purchased in a spray can at a hardware type store. You might also choose to apply this protective covering before first use. The black metal mounting frame and mounting brackets can be spray painted as necessary based on personal choice. Wood screws and anchors are provided. If you are installing on a different surface you may require additional or different hardware.

The H Potter window box mounting brackets are not designed to be attached to a metal railing. H Potter recommends exploring https://www.holditmate.com/ patented systems if you are choosing to attach your window boxes to a metal railing.

Your water may contain minerals, chlorine and/or fluoride which may by unfriendly to the finish on the planter. H Potter planters are not designed to be used as fountains. Water spilling over the sides of the planter may affect the finish of the planter and/or may cause water stains or water spots. Setting a planter close to a sprinkler can also cause water spots or stains. Additives in the soil used might also contain chemicals which when over-watered may spill over the sides and run down the planter potentially affecting the finish.

Winter storage is recommended but is a matter of personal choice. We choose to clean our planters at the end of the season with a soft, non-abrasive cloth along with water and a small amount of mild dish soap. After cleaning and drying, we winterize with a coat of polyurethane and store planters in our garden shed. As the planters are made from copper they are designed for outdoor use, but wind and snow falling from a rooftop can be a concern.

Measurements other images

3 sizes available choose from 30, 36 or 48 inches long by 8 inches tall by 8 inches wide

.
Share
View full details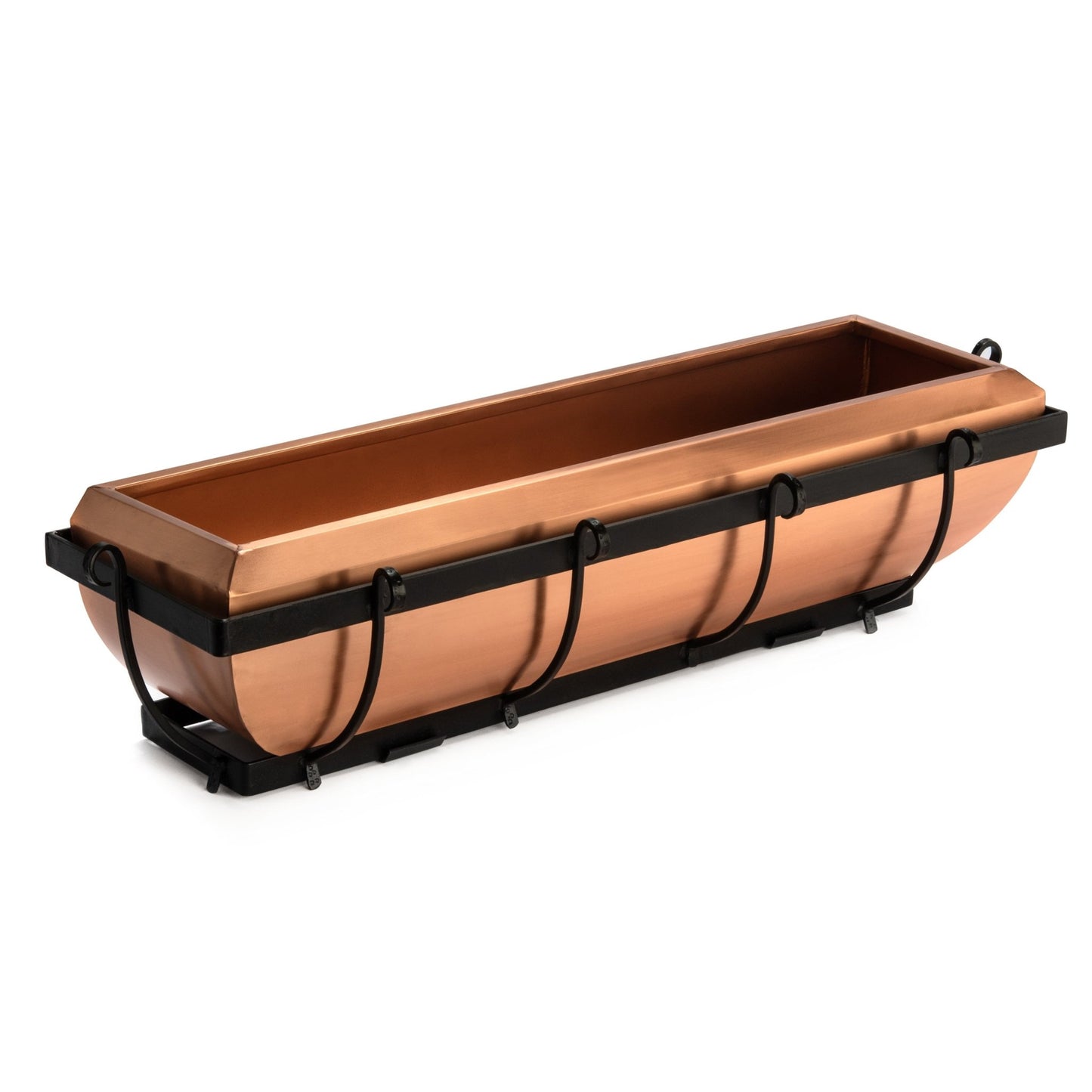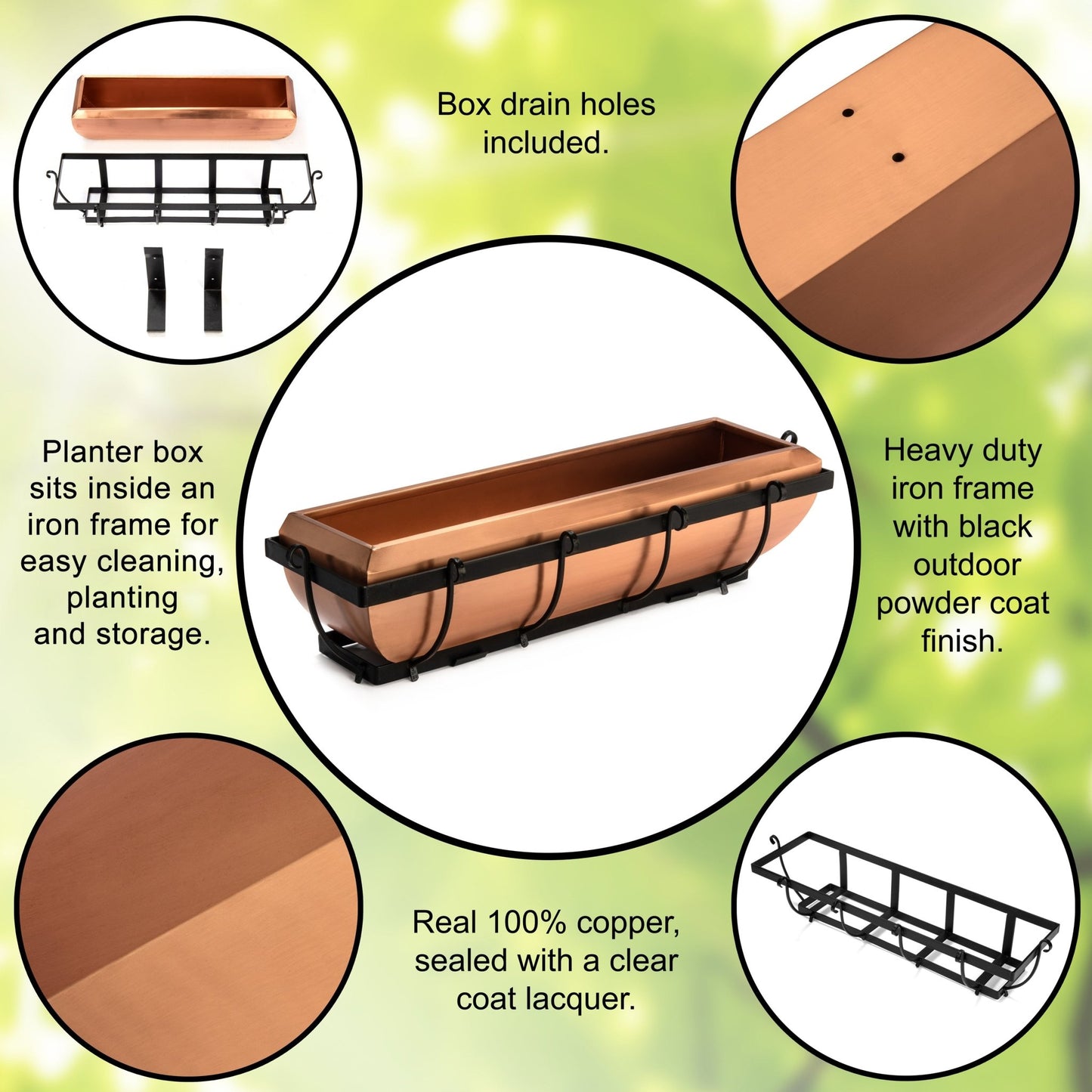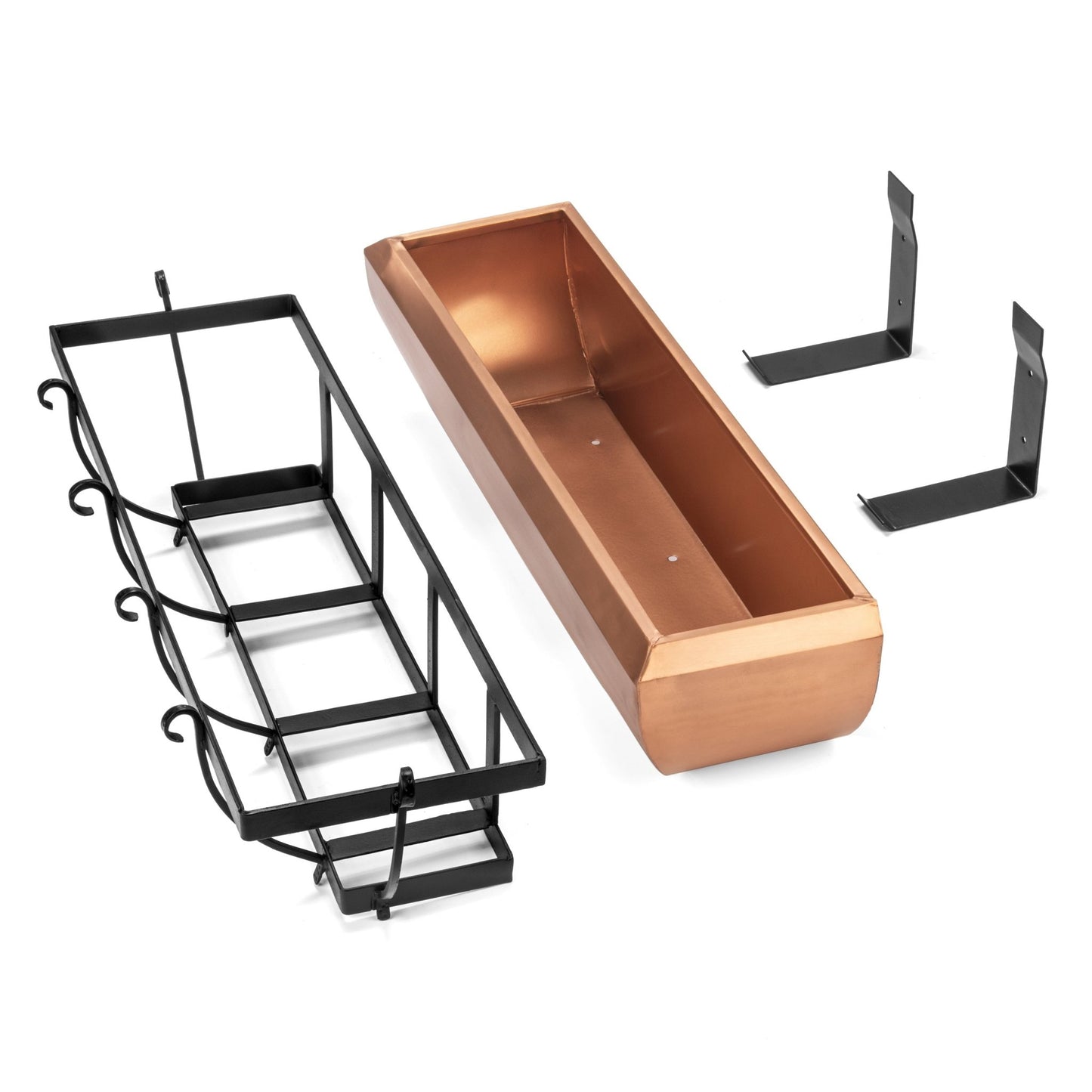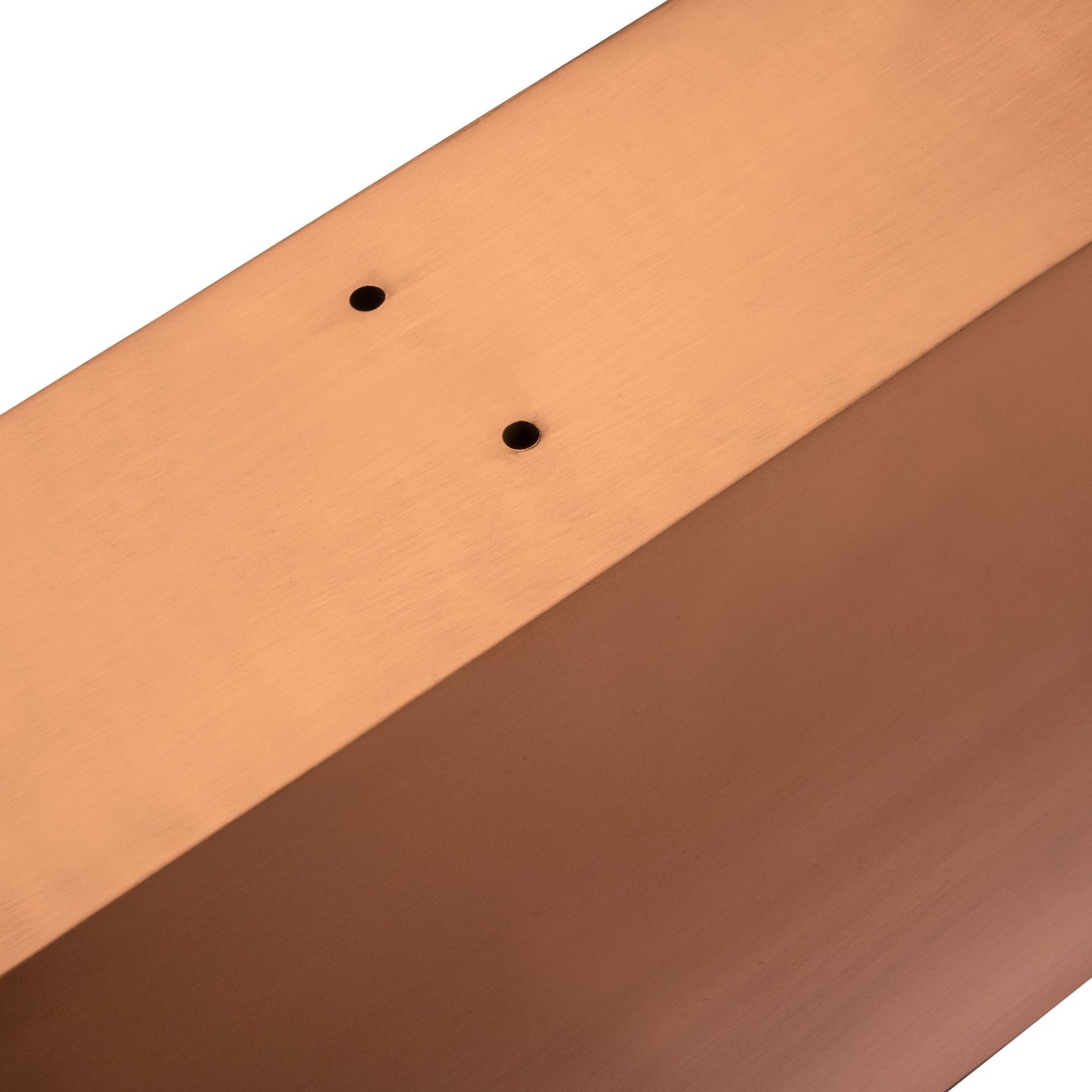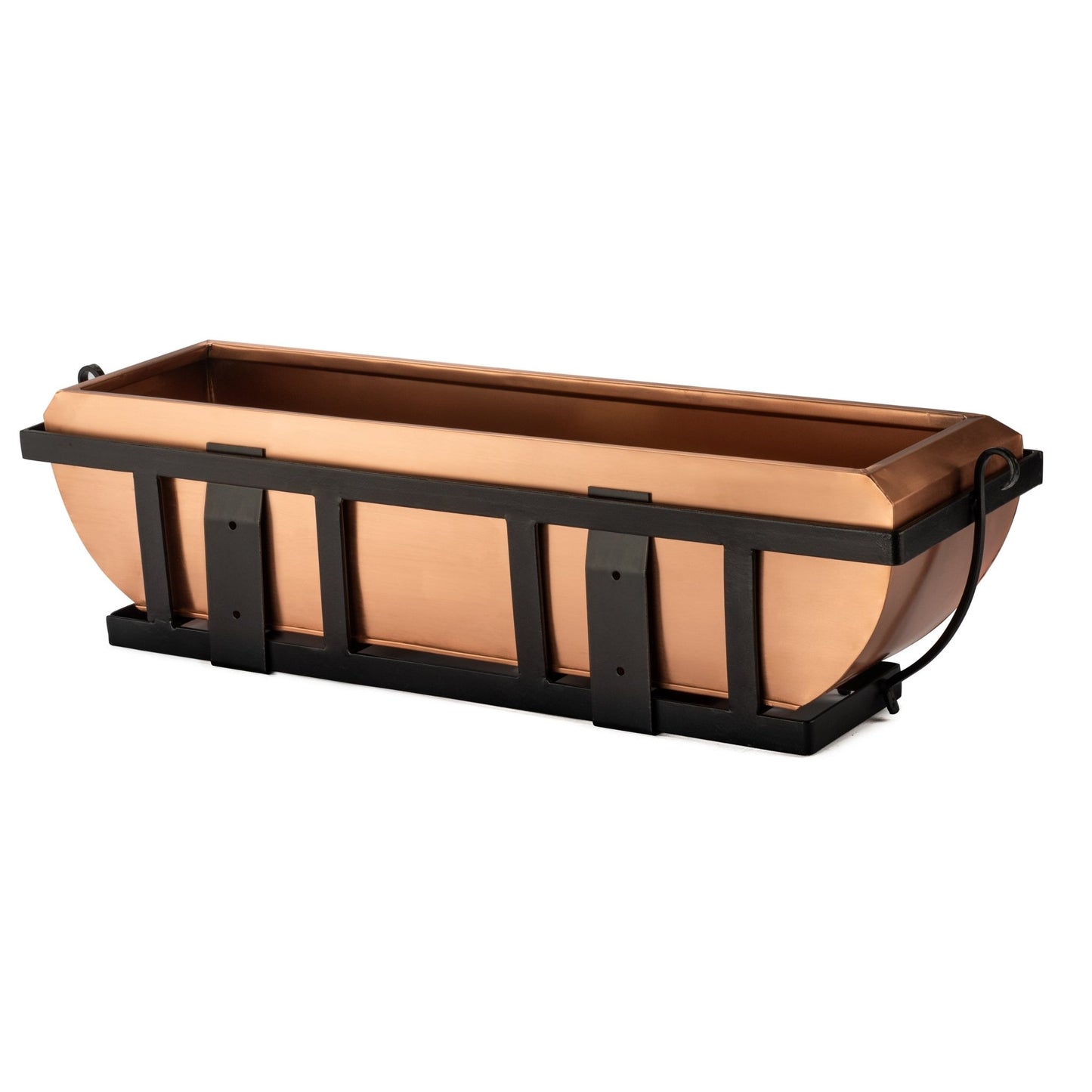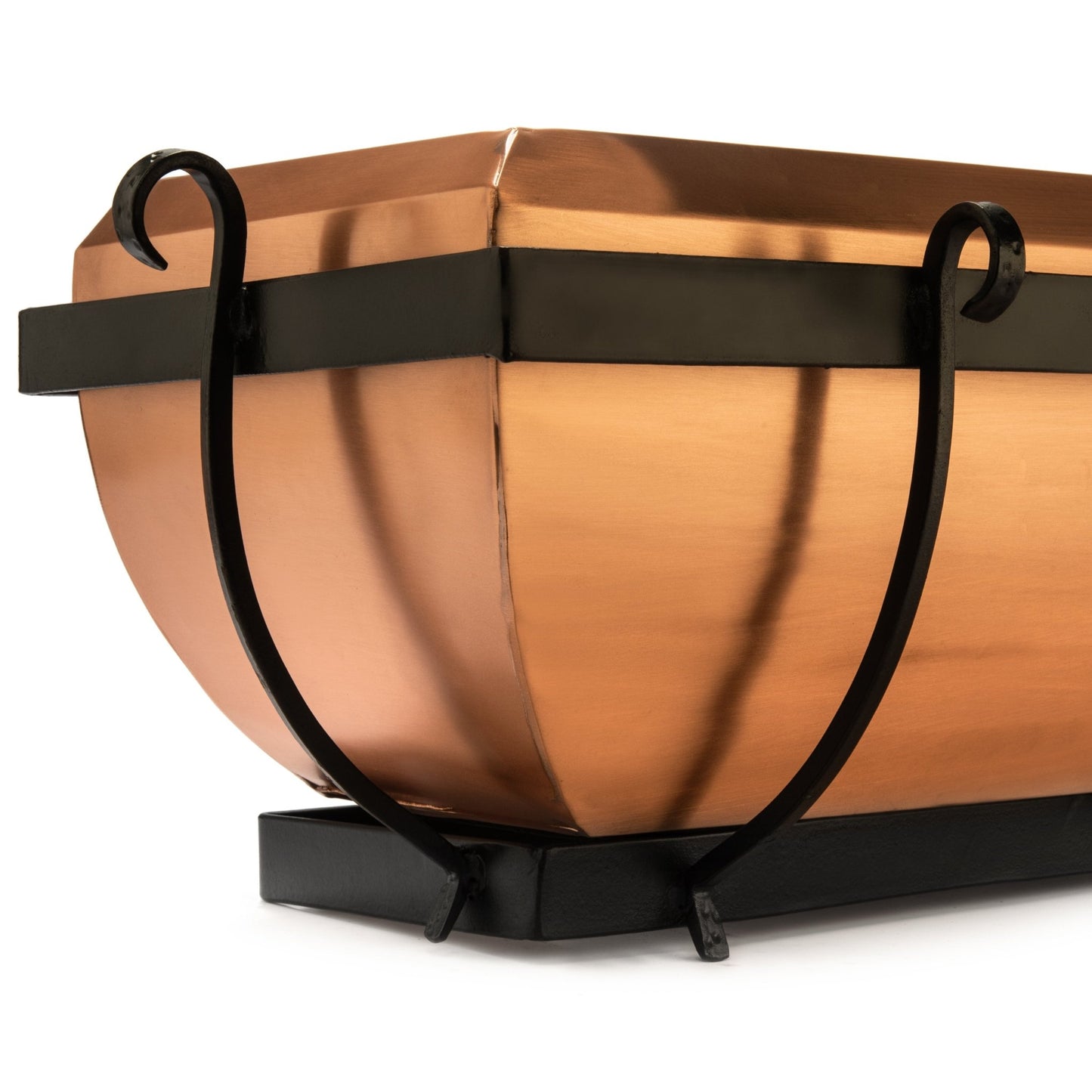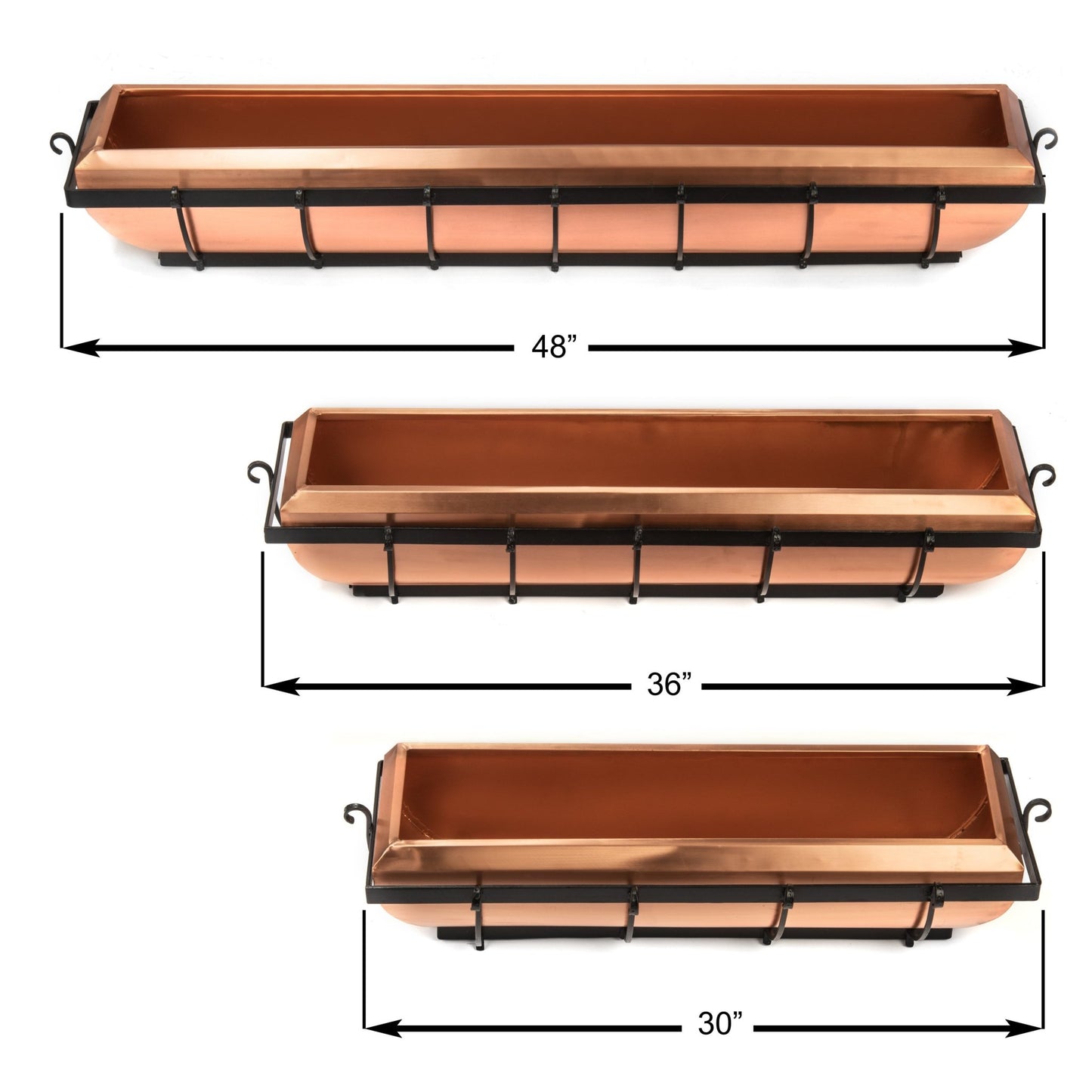 H Potter Copper Window Box Hanging Flower Deck Planter 30" Model Gar134
Regular price
Sale price
$205.00
Unit price
per
Sale
Sold out
Add to Cart