Regular price
$329.00
Sale price
$279.00
Unit price
per
Sale
Sold out
SKU: GAR652
Weight: 40.0 lb
Product Description

STYLISH LIGHTED PATIO SIDE TABLE

A breakthrough new side/end table from H Potter. This lighted end table begins with its artistic fern laser cut steel design straight from the H Potter design team complete with a dazzling display of weather resistant LED lights behind a white polycarbonate screen.  This bold lighted side table will seize the attention in any room. The square black marble top accentuates the sturdy table beneath with its unique mahogany powder coat. The durable table stands 19 tall with a 16 inch base that tapers to a 15 inch square top. 

SHINING MARBLE TABLE TOP FOR INDOOR OR OUTDOOR

This exquisite accent table is huge on style and function. It accentuates any type of home décor, from classic to modern and rustic to retro. Place this charming side table next to a couch or sofa in the living room, or in your entryway or hallway, or even use it as a lighted nightstand in your bedroom. With water resistant LED lights inside the table this shining piece of decor can be used in any outdoor setting as patio furniture on your deck, terrace or balcony.

COLORFUL & BOLD END TABLE

This side table not only looks exquisite anywhere it sits, but matches the mood of any entertainment event or simple evening at home with its wide variety of colors. Choose to light up your indoor or outdoor spaces with variations of red, blue, green, or white light at the push of a button with the included remote control. Choose to be bold, approachable, or modest with your selection of color on the patio or in the home.

LED LIGHTING FOR SIDE TABLE

This marble top side table contains high-quality, weather resistant LED lighting to light up your indoor and outdoor spaces. The lighting is remote controlled to change the color, depth, and intensity of the lighting. The lighting system is powered by a rechargeable and easily removable lithium ion battery pack that provides up to 6 hours of lighting between charges. Simply remove the rechargeable battery pack to connect to the included charger. 

STURDY ACCENT TABLE 

This lighted side table is built to last with a sturdy and durable construction. The table is constructed from high-quality materials including, zinc-plated steel, beautiful powder coating, a UV sealer, and a square marble top. Made to last, this practical and versatile design also makes it an ideal gift for any occasion, including weddings, engagements, anniversaries, housewarmings and more. 

QUALITY BY H POTTER

H Potter has been designing and manufacturing premium quality garden products since 1997. We do not pretend to be the cheapest, but you get what you pay for. Packaged well, with stunning craftsmanship and backed by great customer service, we're proud to say our garden products are built to last.

FAQ Important LED Information

This item includes IP67 LED lighting, a water resistant but not waterproof LED light. IP67 lighting is rated to prevent water from damaging the lighting for 30 minutes in water 1 meter deep. For this reason we do not recommend fully immersing this product in water, however, the lighting should be water resistant in humid or rainy environments.

What happens if I lose my remote?

Each remote is set to each LED light strip individually, if you lose your remote (or have other issues with the remote) you will need to purchase a new light strip and remote to continue using the item to light up your indoor or outdoor space. This replacement light strip and remotes are available for purchase from H Potter please call or text 208-640-4206 for details.

Why are batteries removable?

Battery packs are removable to allow for an easier recharging experience. Simply remove the battery box from the unit and remove the battery pack from the box and connect it to the included charger. Do not attempt to modify the unit and battery pack to attach an extension cord or charger while in use. Additional batteries are available for purchase if you would like to have an extra battery to use while the first is charging.

Can I use another charger? 

As with other lighting or electrical units, do not modify the product or mix and match chargers for your own personal safety. H Potter provides a charger specifically for this particular unit, if the charger is lost or damaged please contact H Potter.

Can I get a replacement battery? 

Yes, the included battery packs are interchangeable, simply contact H Potter to order a replacement battery for your LED Lighted unit.

Can I place this item in full sun? 

Due to the nature of the lithium-ion battery pack, H Potter recommends that this product should not be placed in full sun for the entire day to protect both the product and the user. When using this LED item outdoors, please consider placing this product on a shaded patio or in an area that only receives partial sunlight. Lithium-ion batteries are flammable when exposed to extreme temperatures.

IP stands for Ingress Protection, while the two different numbers stand for the level of protection from dust and water. - The number 6 refers to the rating for protection against dust, the rating 6 indicates complete protection of the light from dust particles ingress - The number 7 refers to the rating for protection against water, the rating 7 indicates prevention of water ingress and immersion effects for 30 minutes at a depth of 1 meter.

Does H Potter do custom work? 

Custom work is not available. Items are only available in the sizes, finishes and colors shown on our website.

Where are H Potter products made? 

H Potter items are manufactured at our partnered factory in India. Glass terrariums are handcrafted in India and China.

Does H Potter offer discounts? 

H Potter does not offer discounts, but we do offer fast, free shipping and exceptional customer service.

Can H Potter provide detailed information about warehouse deals? 

We do not have specific pictures or information regarding each individual warehouse deal item. Warehouse deals are typically customer returns or photo shoot items. We inspect items upon their return to make sure glass is not broken, items have not been used or major components are not missing, this said, items could have dents or dings, hardware may be missing, outer boxes may show wear and tear. It is not feasible to provide specific photos detailing the issues as each individual item would need its own sku identification.

Does H Potter ship outside of the United States? 

H Potter is not offering shipping outside of the lower 48 states.  Duties and shipping charges to other locations are often more expensive than the item itself.

Does H Potter offer replacement parts? 

H Potter does not keep an inventory of replacement parts. If an item arrives and a small part is damaged, please contact us for solutions.

Does H Potter offer replacement glass? 

H Potter does offer replacement glass for lanterns and torches. Please contact H Potter via text at 208-640-4206 if replacement glass items are showing out of stock. When ordering replacement glass for lanterns please note the lantern SKU for which you are requesting the replacement glass

Please use this link to purchase lantern glass.

Please use this link to purchase torch glass.

What is H Potter's return policy? 

Materials & Care 

The H Potter LED illuminated round end table is constructed from zinc-plated steel, beautiful mahogany powder coating, a UV sealer, and a marine grade stainless steel insert. This metal side table is made to withstand the elements, with weather resistant IP67 LED light strips and high quality materials. To add a bit of extra protection to the finish, you might choose to apply a coat or two of clear spray paint annually to the inside and outside of the table. This can be purchased in a spray can at a hardware type store. You might also choose to apply this protective covering before first use.

Your water may contain minerals, chlorine and/or fluoride which may by unfriendly to the finish on the table. Water from a sprinkler spraying the sides of the table may affect the finish and/or may cause water stains or water spots.

We choose to clean our tables with a soft, non-abrasive cloth along with water and a small amount of mild dish soap.

If you are using the table outdoors, you might consider inside storage during the winter based on the weather conditions in your area.

Measurements & Other Images

The fern table stands approximately 19 tall with a 16 inch base that tapers to a 15 inch square top.
Share
View full details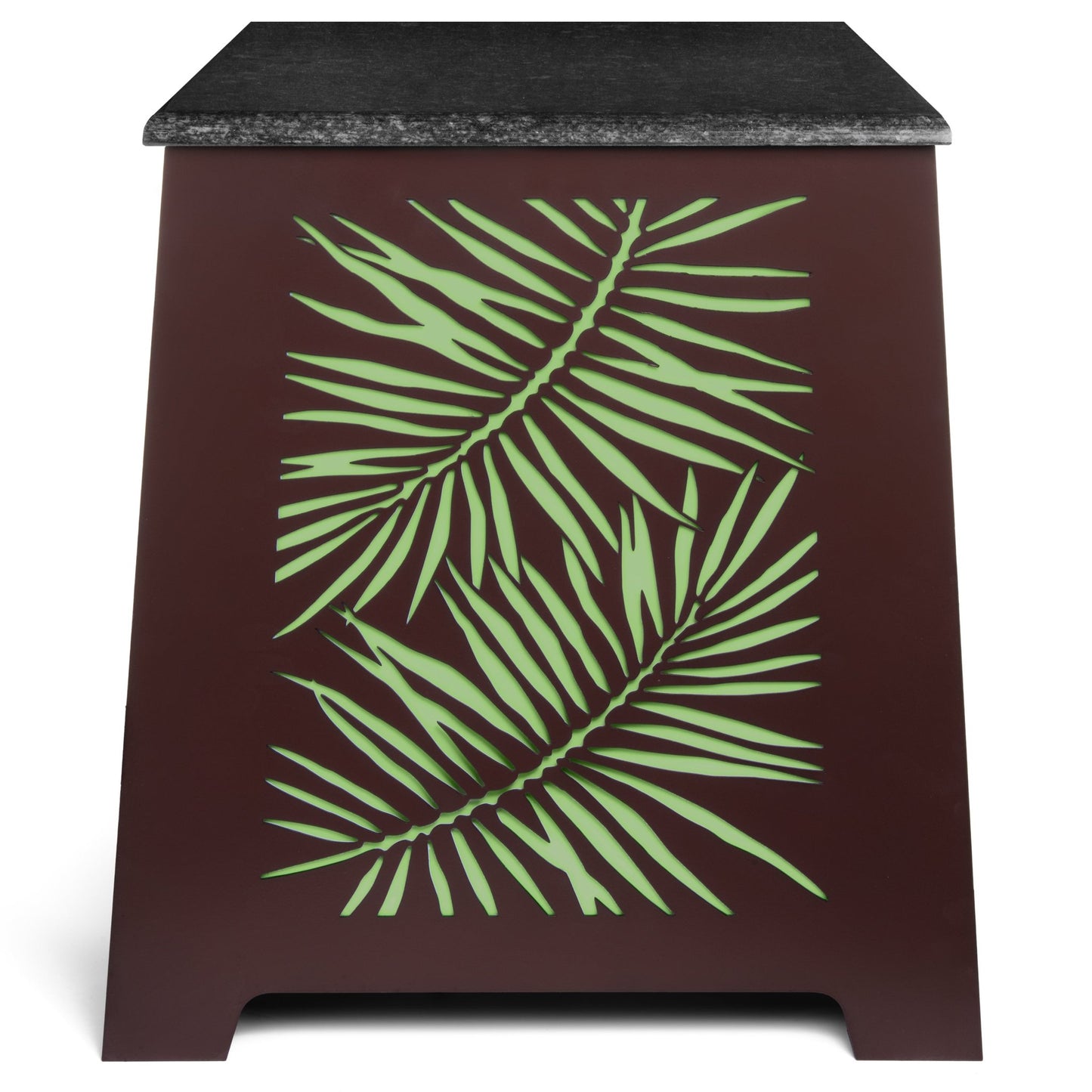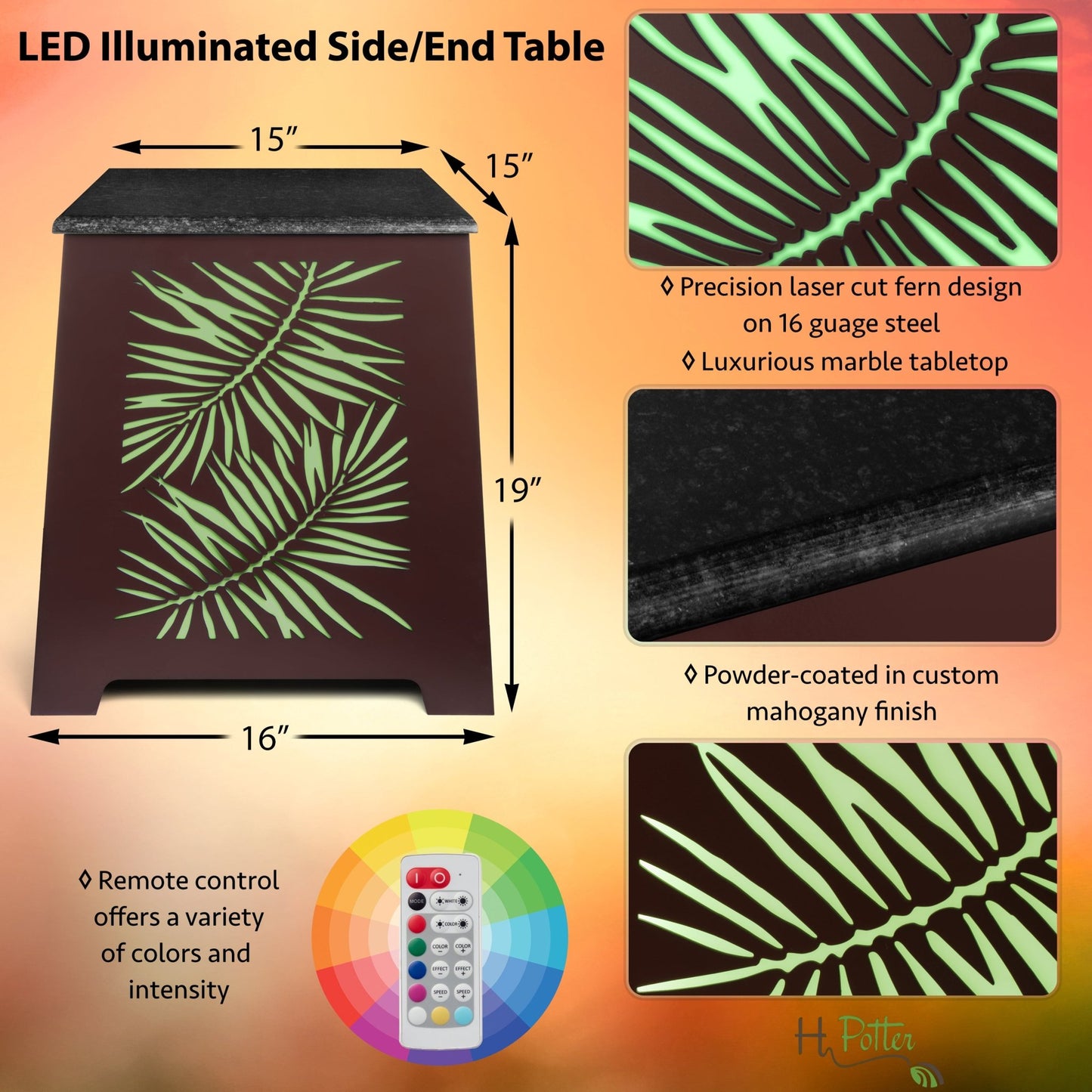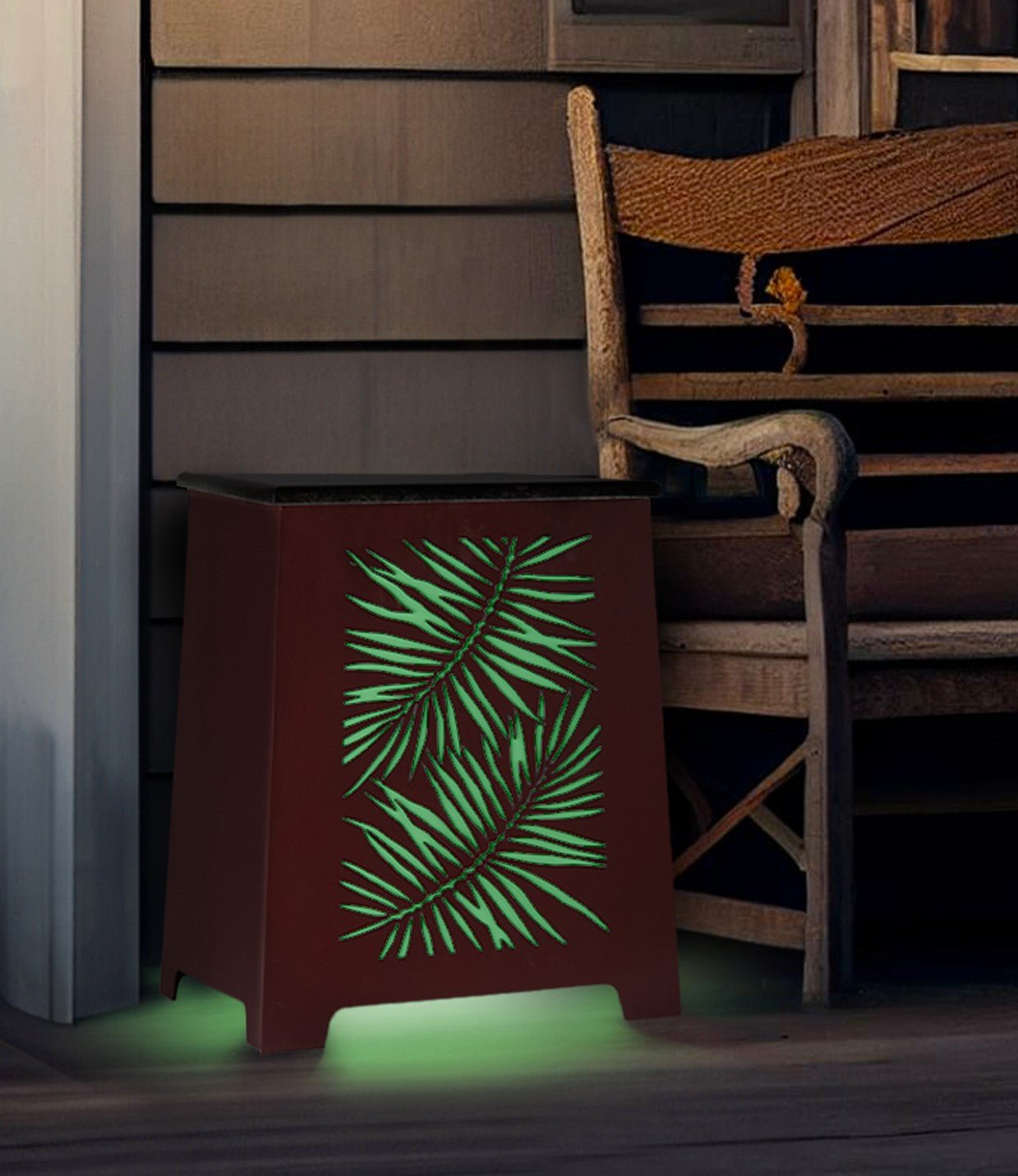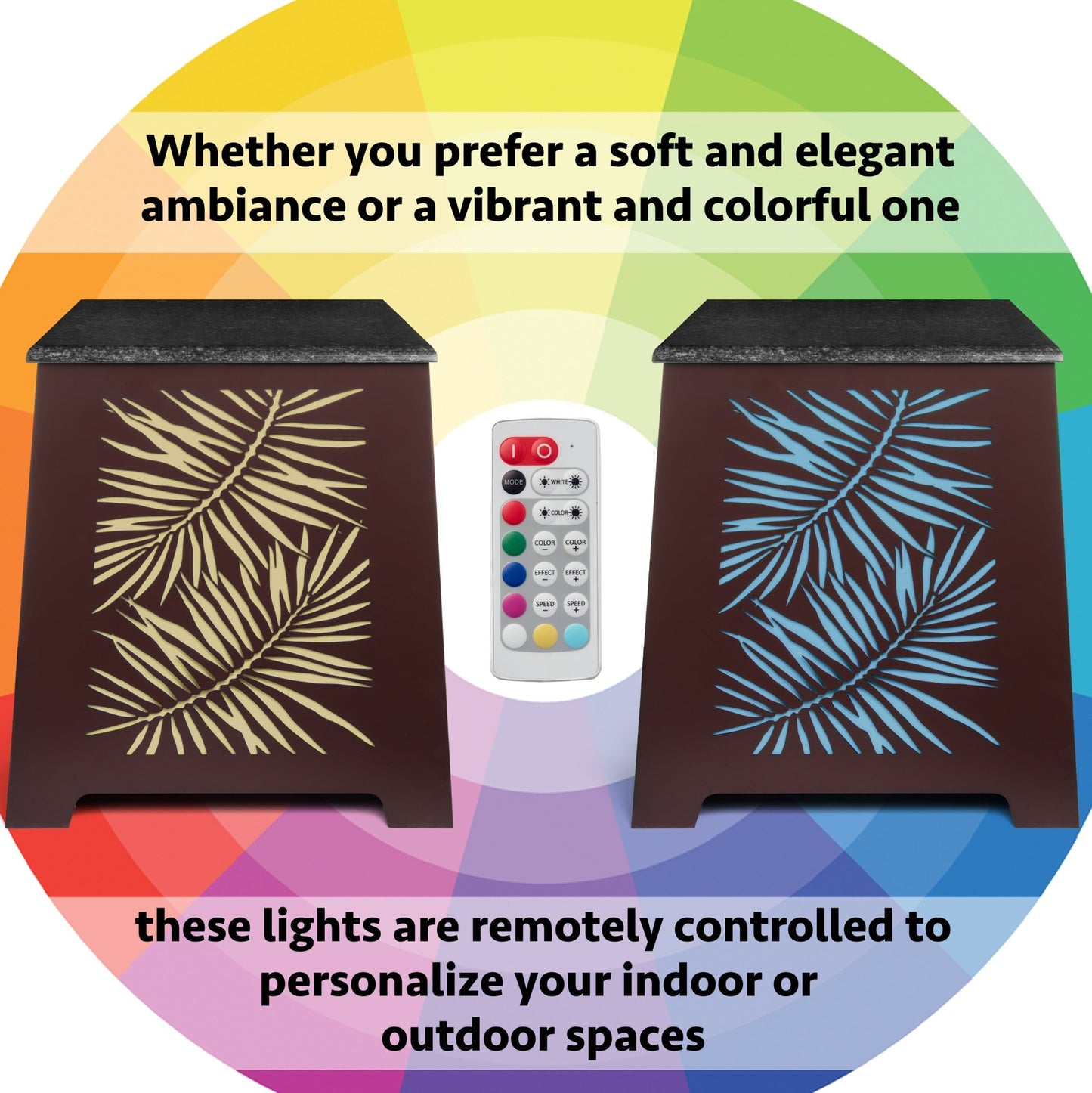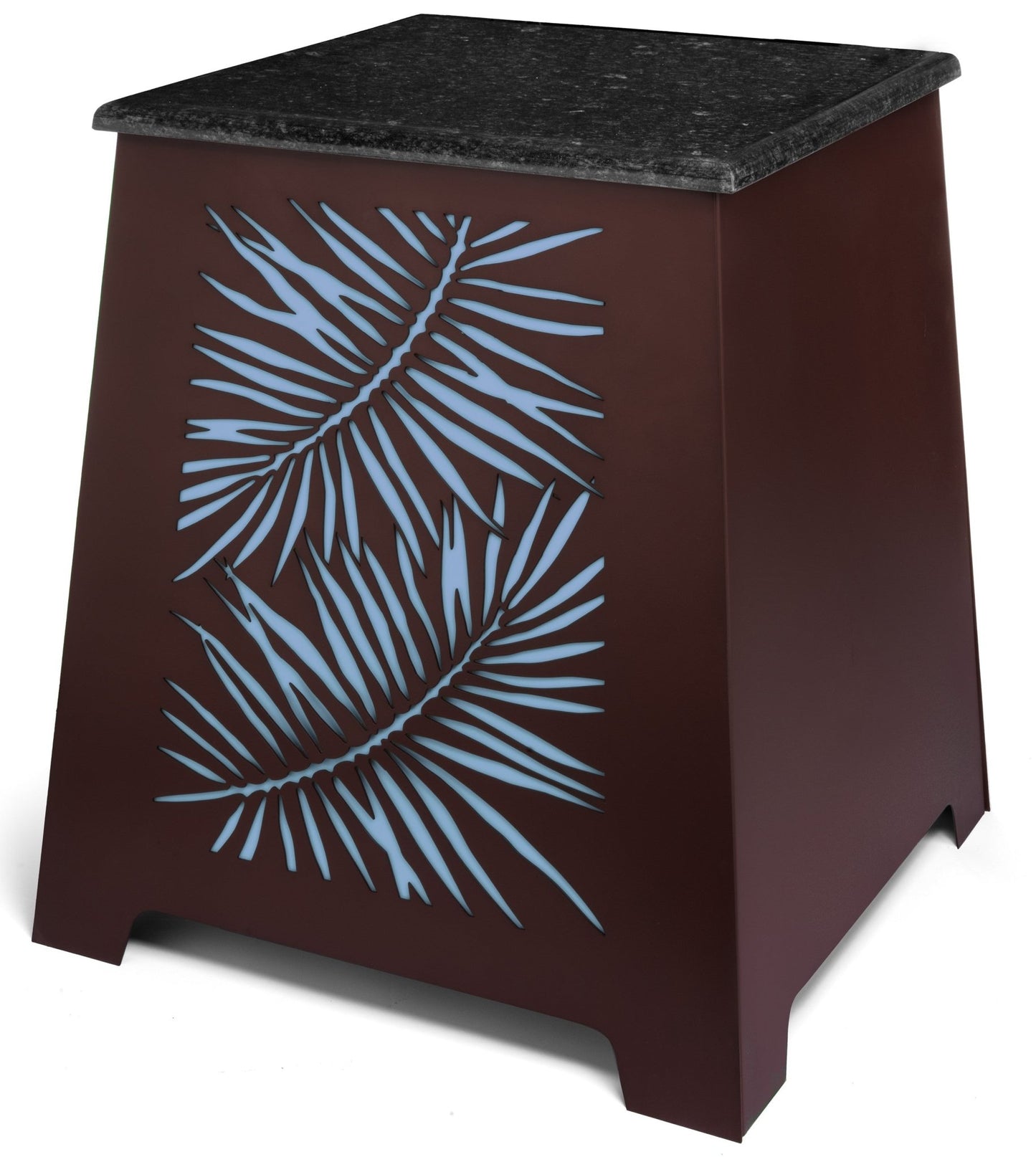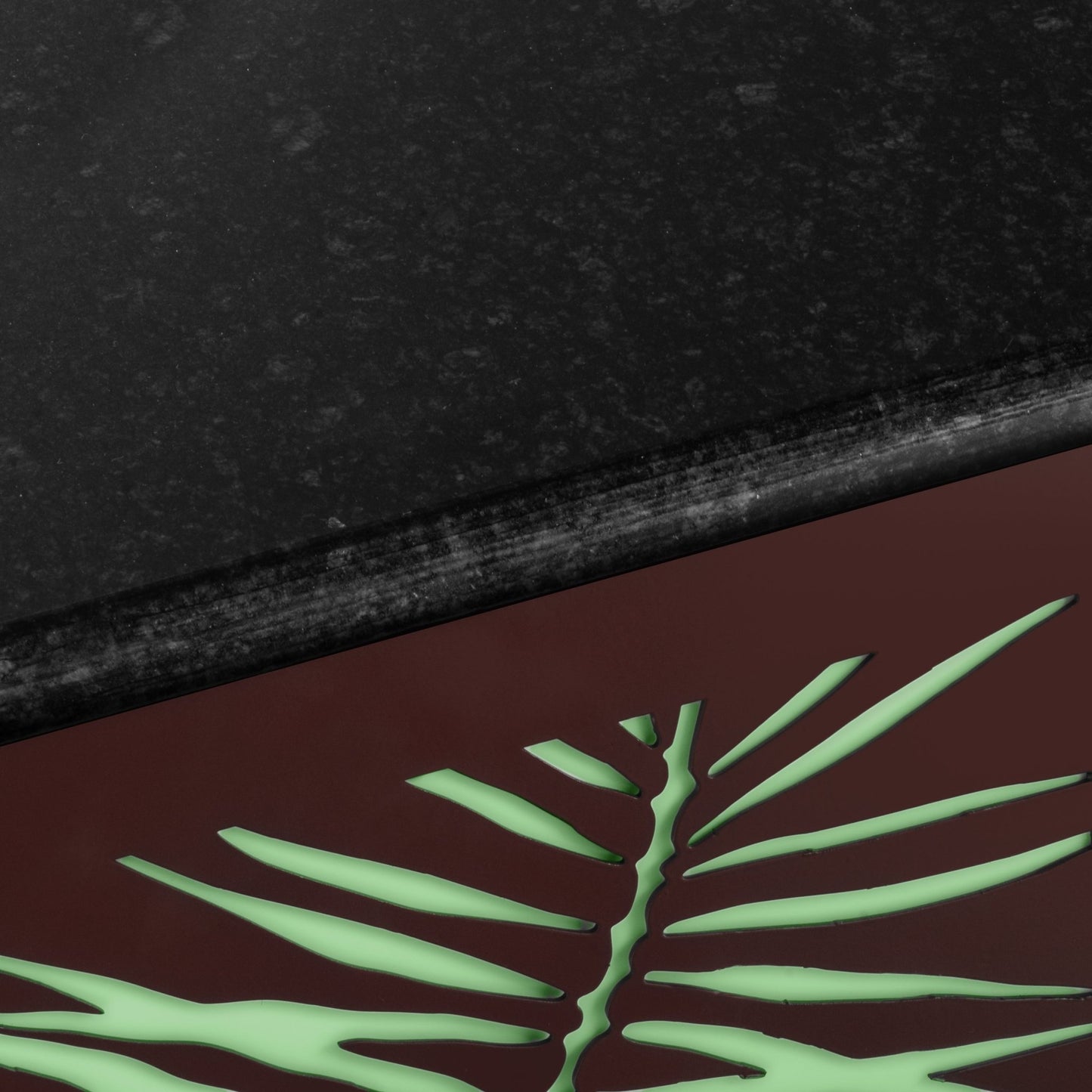 H Potter Indoor Outdoor Patio Accent Side End Table LED Lighted Fern Design
Regular price
$329.00
Sale price
$279.00
Unit price
per
Sale
Sold out
Add to Cart