Regular price
Sale price
$1,120.00
Unit price
per
Sale
Sold out
SKU: GAR645
Weight: 200.0 lb
Product Description

LARGE METAL BAMBOO STYLE GARDEN ARBOR – DIMENSIONS AT OUTSIDE EDGES: 84" (SIDE TO SIDE OUTER POINTS) x 30" (FRONT TO BACK) x HEIGHT 87" TALL. WALKWAY OPENING is 48.5" wide. Please see detailed drawings with more measurements. Approximately 200 pounds total weight

Your garden is a relaxing place, why not create an entryway that reflects its welcoming splendor? Step through this pergola arch into a world where the ordinary is a distant thought.

Our H Potter large iron arbor trellis is an elegant addition to your outdoor space, and a functional solution for any garden.  Includes large ground spikes to anchor into the ground thru the holes in the 'feet' of the arbor.

Stunning standing on its own as yard art, this metal arbor is powder coated to withstand the outdoor elements.  Elegant covered with vines and foliage it will add beauty and calmness to your garden decor.

FEATURES OF A GARDEN ARCHED TRELLIS

A large iron trellis arbor from H Potter is durable and built to withstand the outdoor elements. H Potter's heavy duty metal arbors are a hardscape that will be the focal point of your garden everyone will be talking about.

LARGE IRON TRELLIS ARCHWAY FOR GARDEN  USES

There are unlimited ideas for using your trellis arbor to enhance the beauty of your home. Express your personality with this large surface area.

WITH OUR TALL METAL ARCHWAY FOR GARDEN, YOU CAN:

add an elegant entrance allow you to walk through shade and calm
create an eye-catching focal point in your outdoor area
adding color and texture in your patio area
highlight your favorite climbing plants, vines or flowers
separate areas of your property without obstructing light

…and this list is far from exhaustive! Our garden arbor is a versatile yard and garden decorations available today!

FEATURES OF OUR WROUGHT IRON GARDEN ARBOR

An H Potter arch trellis boasts many features that make it the perfect addition for any home or business setting.

DIMENSIONS OF AN H POTTER WROUGHT IRON ARCH TRELLIS AT WIDEST POINTS

Depth: 30 inches-Front to Back

Length-Side to Side at widest point: 84 inches

Height: 87 inches

Our Heavy Duty Metal Arbor is Designed to Endure

H Potter's large metal garden arbor is hand-crafted from sturdy iron for both ultimate durability and timeless appeal. Perfect in backyards, gardens, courtyards, or patios, it stands like a silent and constant companion for your favorite foliage and fauna.

Unique Wrought Iron Grid Work Supports Climbing Plants

Our metal garden arbor can be used to train and support heavy climbers, such as honeysuckle, clematis, and roses. A strong foundation for a variety of plants or you might choose to showcase the arbor alone as backyard decor.

Assembly and Finish

Assembly is required. It's stabilized by driving the ground spikes through the bottom of the trellis and into the ground.

Additionally, it features a new Deep Red Brown Mahogany, powder-coated finish that provides the perfect canvas for standing out without distraction.

ELEVATE YOUR GARDEN WITH H POTTER QUALITY GARDEN ARBORS

At H Potter, we've been designing and manufacturing premium quality garden products since 1997. We don't pretend to be the cheapest, but what do they say?

You get what you pay for.

With stunning craftsmanship, backed by great customer service, we're proud to say that our garden products — and our customer relationships — are built to last. If you want more ideas for enhancing your garden with an H Potter garden trellis arch, reach out to our team today.

FAQ

Does H Potter do custom work? 

Custom work is not available. Items are only available in the sizes, finishes and colors shown on our website.

Where are H Potter products made? 

H Potter items are manufactured at our partnered factory in India. Glass terrariums are handcrafted in India and China.

Does H Potter offer discounts? 

H Potter does not offer discounts, but we do offer fast, free shipping and exceptional customer service.

Can H Potter provide detailed information about warehouse deals? 

We do not have specific pictures or information regarding each individual warehouse deal item.Warehouse deals are typically customer returns or photo shoot items. We inspect items upon their return to make sure glass is not broken, items have not been used or major components are not missing, this said, items could have dents or dings, hardware may be missing, outer boxes may show wear and tear. It is not feasible to provide specific photos detailing the issues as each individual item would need its own sku identification.

Does H Potter ship outside of the United States? 

H Potter is not offering shipping outside of the lower 48 states.  Duties and shipping charges to other locations are often more expensive than the item itself.

Does H Potter offer replacement parts? 

H Potter does not keep an inventory of replacement parts. If an item arrives and a small part is damaged, please contact us for solutions.

Does H Potter offer replacement glass? 

H Potter does offer replacement glass for lanterns and torches. Please contact H Potter via text at 208-640-4206 if replacement glass items are showing out of stock. When ordering replacement glass for lanterns please note the lantern SKU for which you are requesting the replacement glass

Please use this link to purchase lantern glass.

Please use this link to purchase torch glass.

What is H Potter's return policy? 

Materials & Care 

H Potter metal arbors are created using heavy duty iron for ultimate durability. The arbors are powder-coated a deep red brown mahogany, finished with a high grade clear-coat protective sealer. This smooth finish can be spray painted once you receive your arbor if you prefer a different color.

To add a bit of extra protection to the finish, you might choose to apply a coat or two of clear spray paint annually to the arbor. Clear spray paint can be purchased at a hardware type store. Sometimes during transit or while the arbor is in the ground, small hairline cracks can occur in the finish due to the metal flexing. If you notice this has occurred, please spray the area with the same clear spray paint. Please use care during assembly. If you happen to mar the finish during assembly you should repair the area with a high grade spray paint.

H Potter arbors are all packaged with ground spikes.

Measurements other images

OUTSIDE EDGES: 83"L (SIDE TO SIDE OUTER POINTS) x 28" DEEP (FRONT TO BACK) X 38.5"L x HEIGHT 87" TALL. WALKWAY OPENING is 48" wide. Approximately 200 pounds total weight.

The H Potter Large Iron Arbor Trellis is ideal for outdoor spaces or gardens that want to add an elegant arch to a path. Beautiful on its own, this metal arbor trellis will look stunning paired with any type of growing vine. Durable and built to withstand the outdoor environment, our H Potter trellis will look beautiful and last for many years.
Share
View full details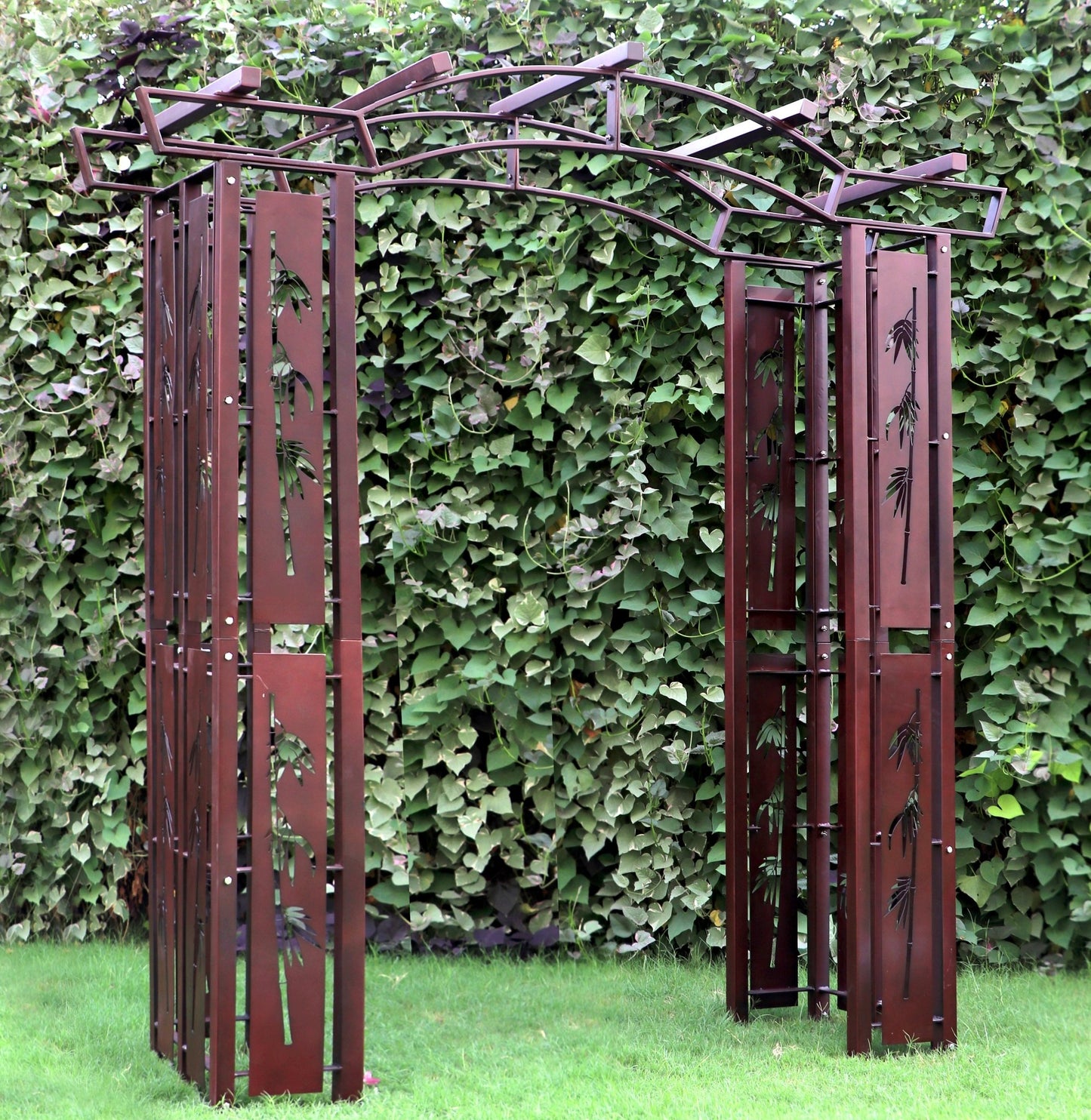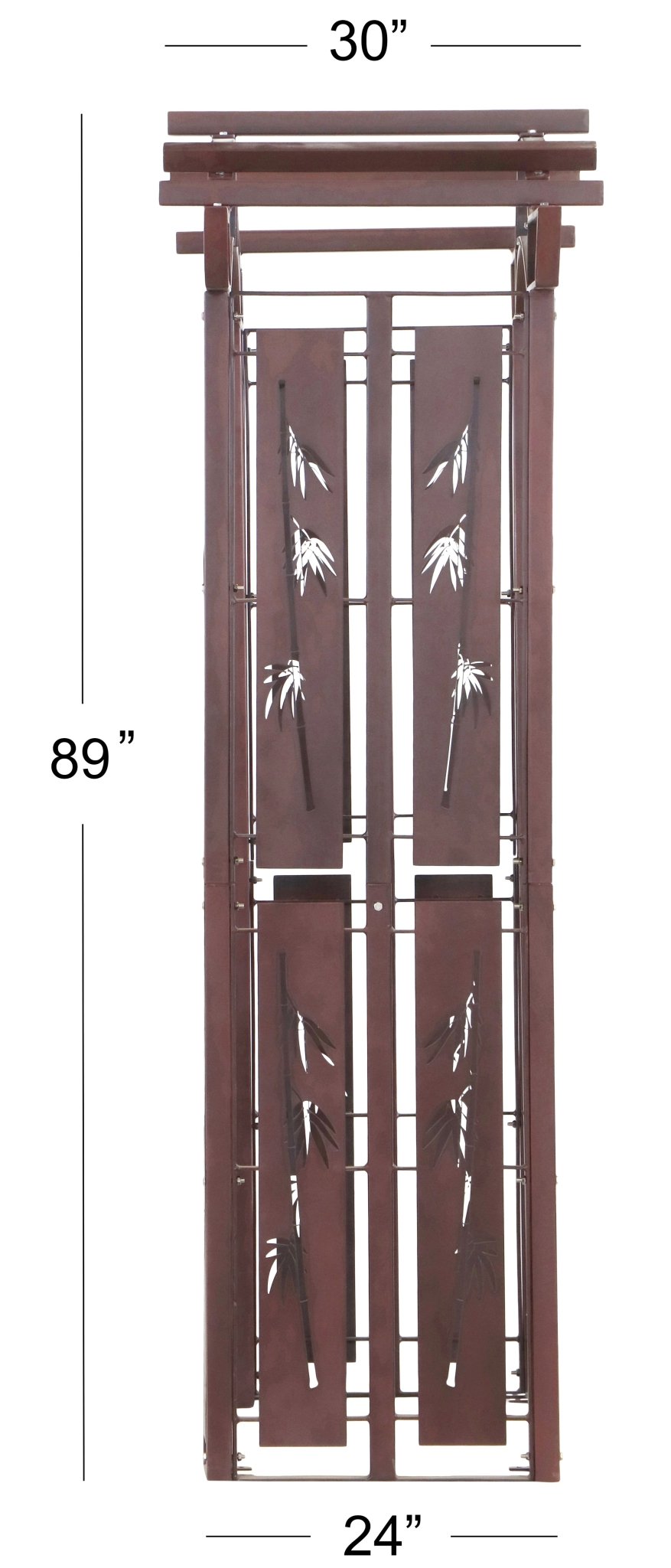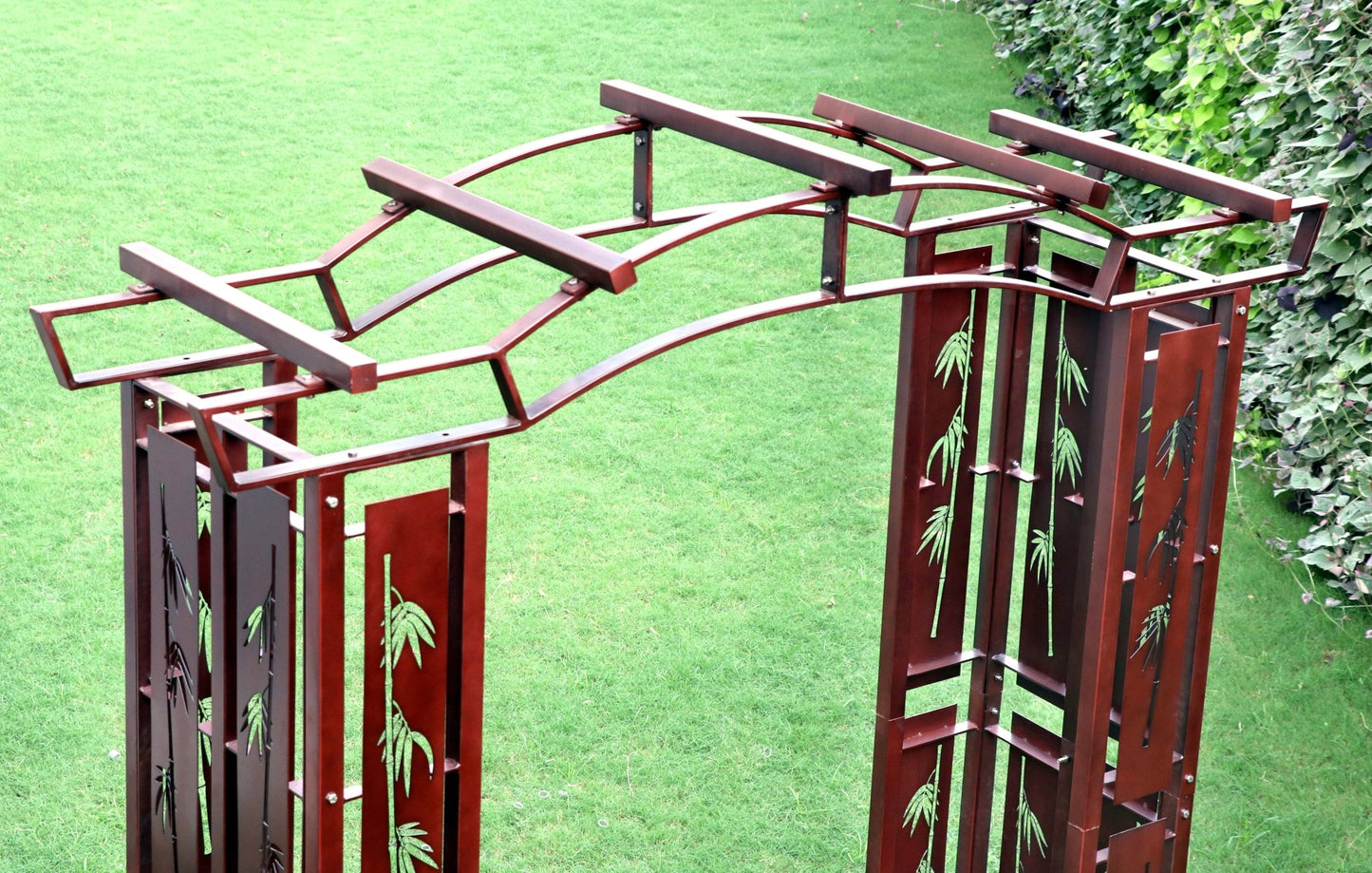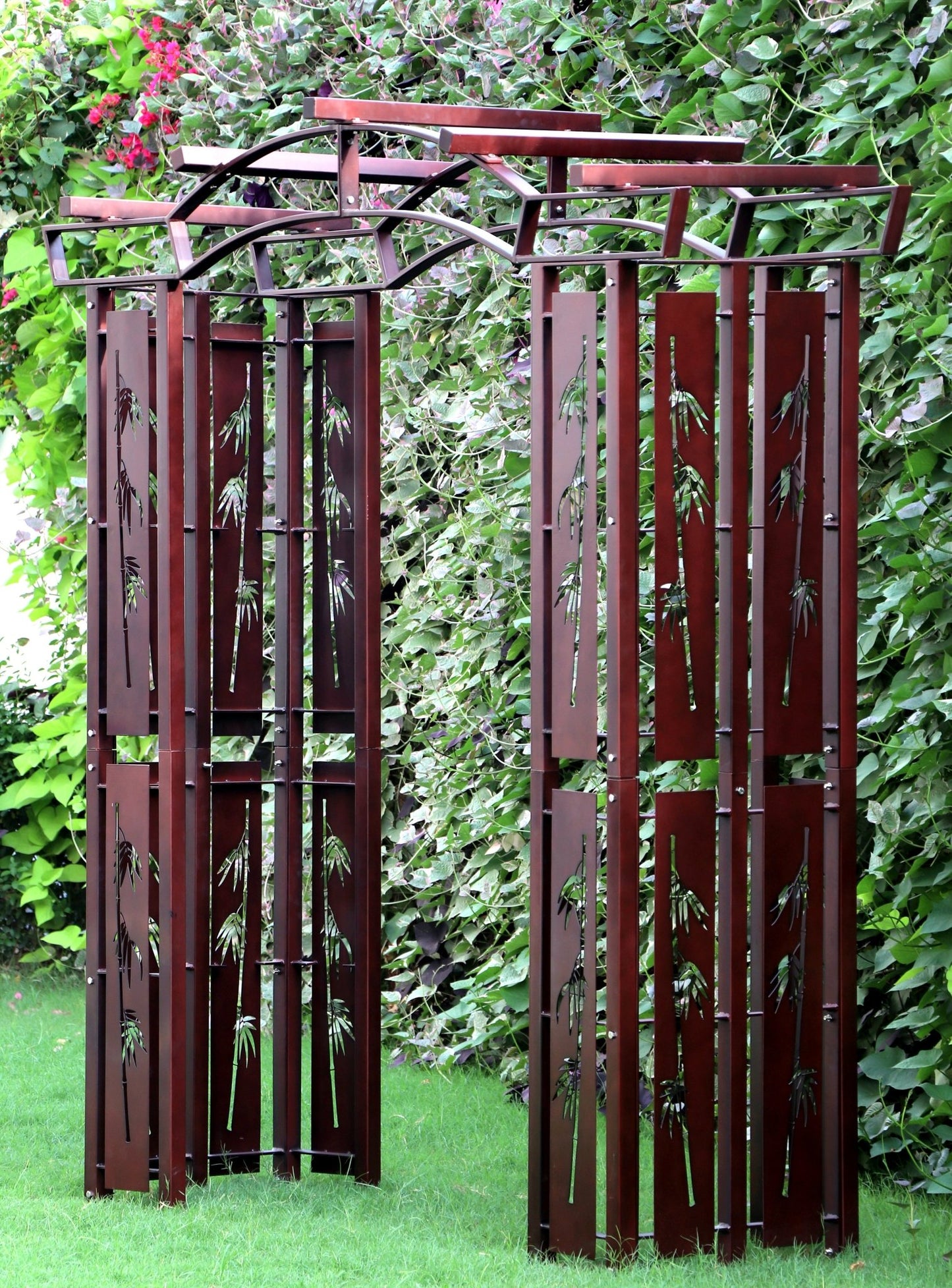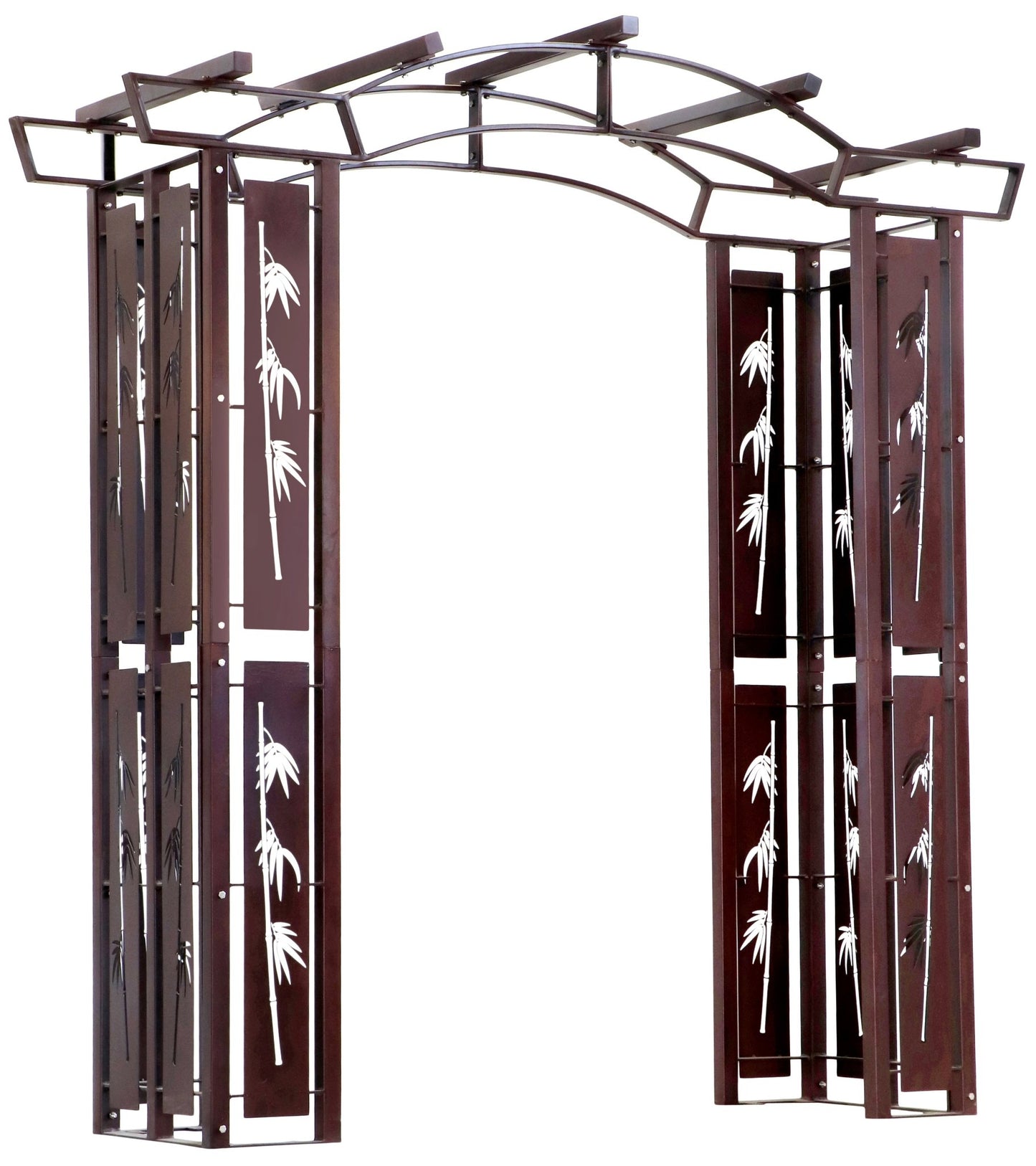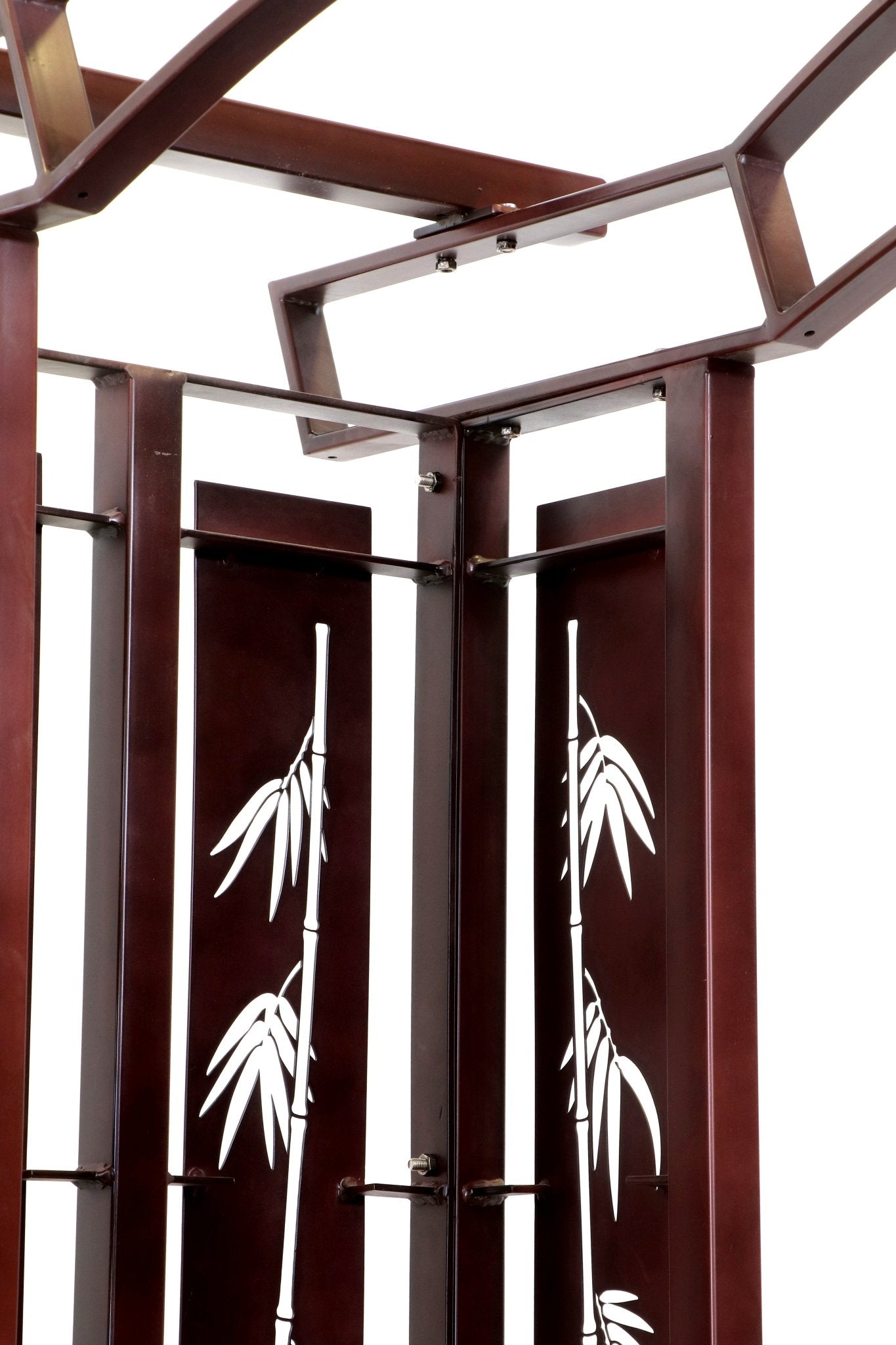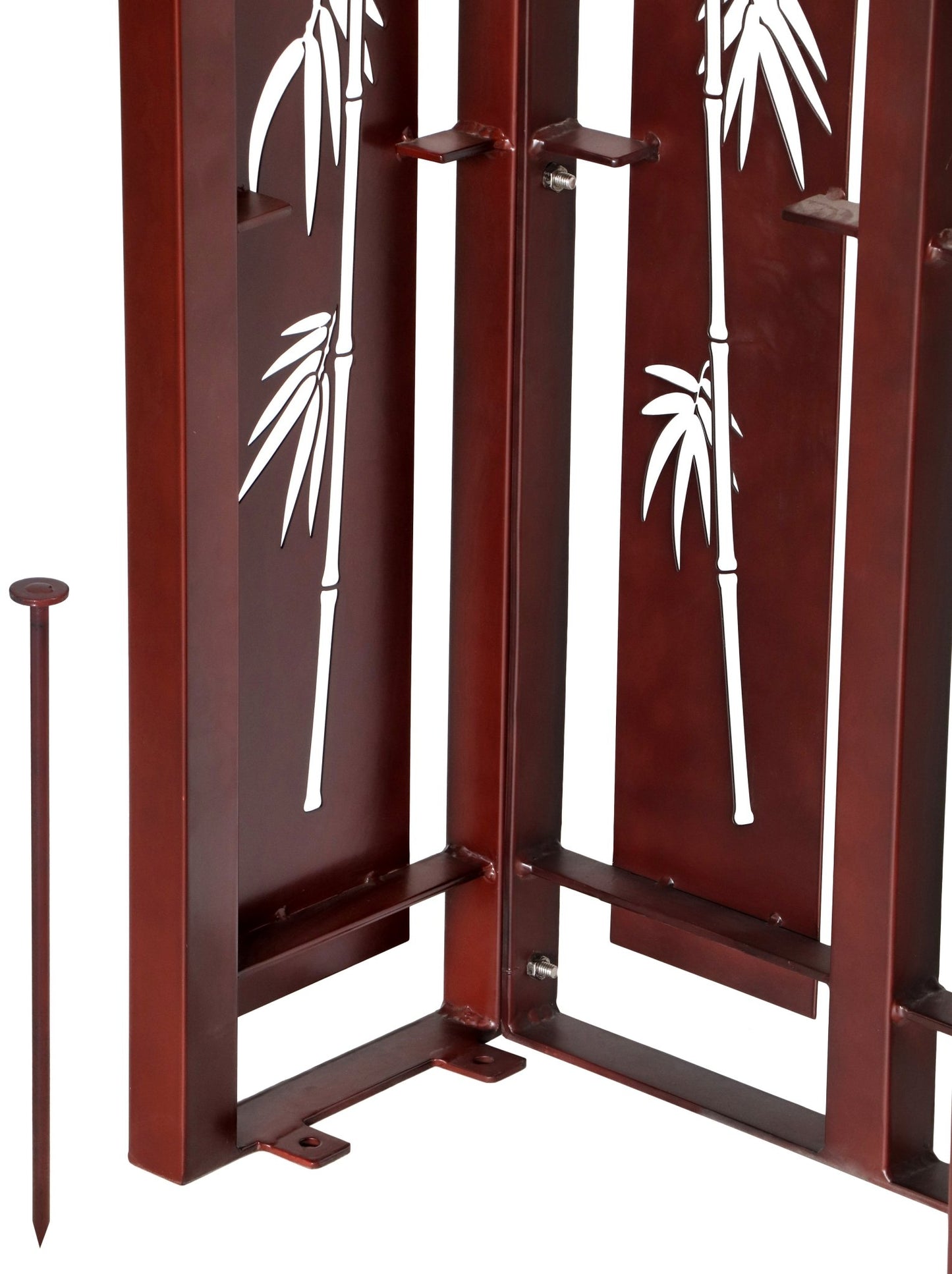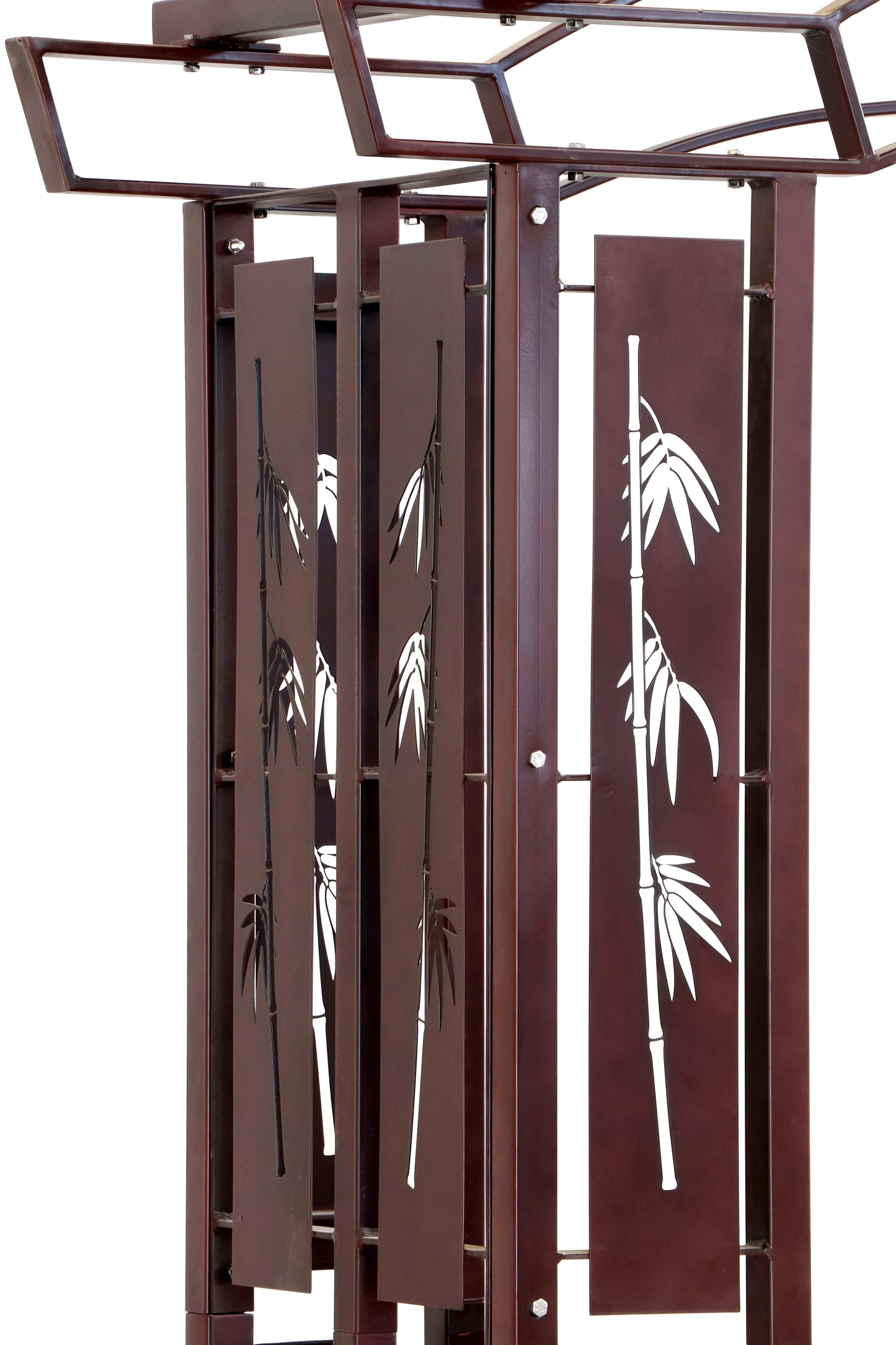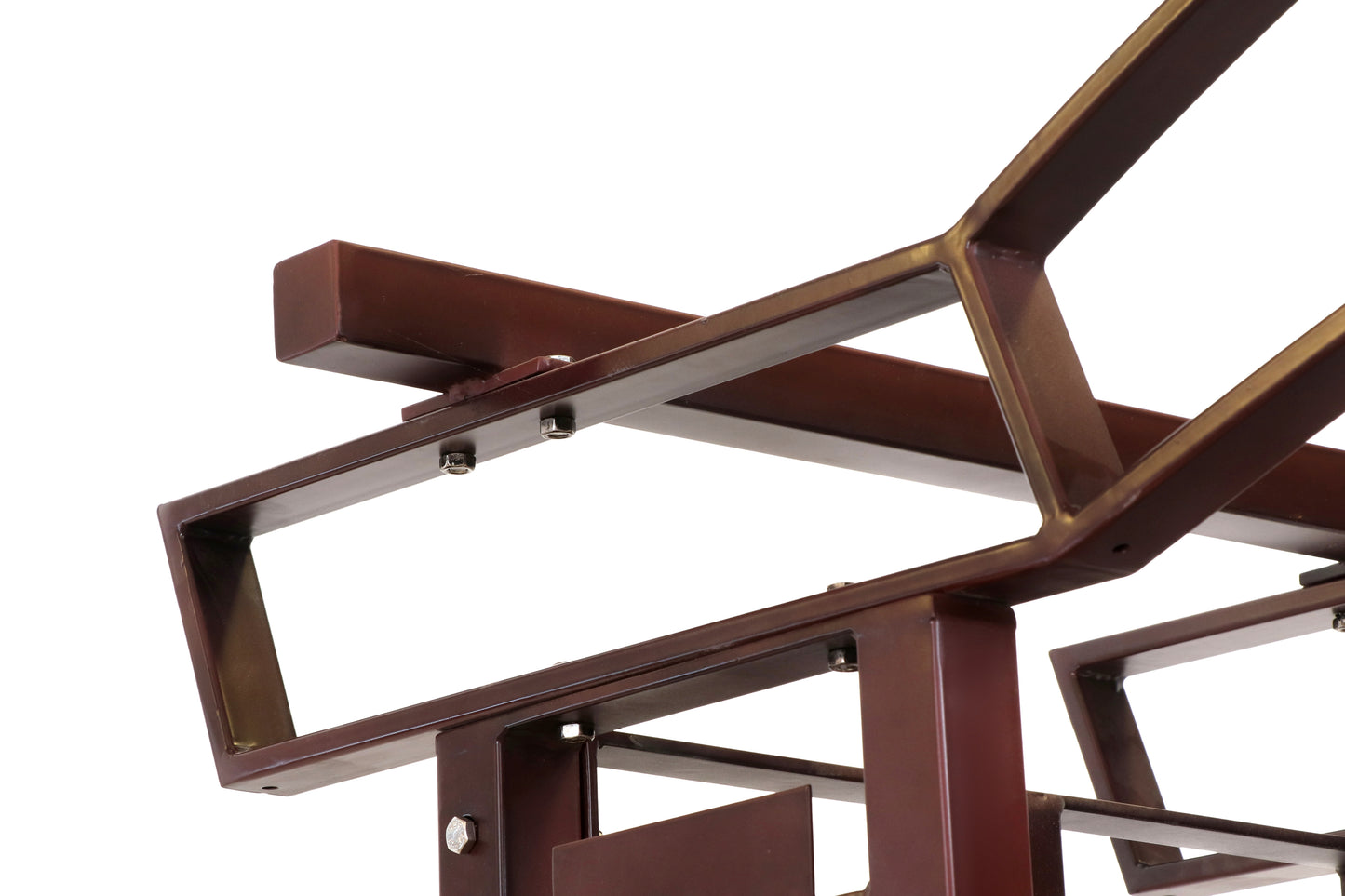 Large Bamboo Garden Arbor Trellis Arch Iron by H Potter
Regular price
Sale price
$1,120.00
Unit price
per
Sale
Sold out
Add to Cart